Ever have dreams of climbing Everest?
Get a new or better job, start and own a business, travel to Costa Rica, or find a new relationship.
One of the most important things you must understand, and before you dismiss these ideas, is
nothing you've ever wanted to accomplish is out of reach.
The Chief Goals Officer method will not only help you achieve your goals, the process itself will improve your life.
Never Say "I Wish I Had"
The Book
Wayne Kurtz' new E-Book Never Say "I Wish I Had" is designed to help guide you toward not only identifying the goals you want to achieve, but then also taking you through a step-by-step process to reach those goals.
You'll Learn
Why Goals Are Important
The difference between Dreams and Goals
How to take small steps toward the big picture
How to celebrate each win
How to build and keep momentum toward your final goal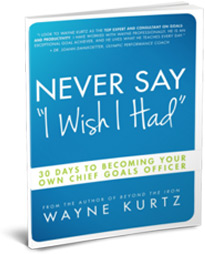 Wayne's personal Goals Formula
Effective Time Management
Accountability Tools
The Value of "Goal Journaling"
Testimonials
"Reading Wayne Kurtz's personal story is enough to make me believe he knows how to set and achieve big, lofty goals. And then he backs up his experience with real, actionable steps to help you achieve your goals, too. Never Say "I Wish I Had" is not a fluffy, rah-rah 'you-can-do-it' book. While it is motivating, Kurtz provides tools, worksheets and real-life examples as well as step-by-step instructions on how to set and achieve realistic, big, goals. It's like having your own personal goals coach on every step of your journey to success."

Denise Wakeman

Online Visibility Mentor

"Of the many books published each year on goal setting, only a tiny fraction have anything new to say. This is one of them. This is invaluable material and a must read for anybody who cares about success in their lives."

Anthony Pappis

VP of Sales, TriMark SSKemp

"Whether you are running your first 5K or climbing Mount Everest, setting goals is paramount to achieving your dreams. If you don't want to look back on your life with regrets, Wayne's book is the de facto inspiration you need to unlock your potential and push yourself outside your comfort zone!"

Clay Abney

"I love working with Wayne and think his book is a must-read for anyone who wants to achieve great things! When Wayne spoke about his goal-setting approach at a recent training run, our runners wanted more!"

Patrice Matamoros

CEO, Pittsburgh Three Rivers Marathon, Inc.

"Wayne's new book Never Say "I Wish I Had" provides the template required to set and more importantly achieve your goals. It's the roadmap each of us requires to ensure we arrive at our destinations. Coaching is required at every level of athletics, business and life. This book provides you that coach and the tools you need to be the best you can be."

Todd Kalis

Eight year National Football League (NFL) veteran
President, Pittsburgh Chapter of the NFL Alumni
Co-Author of Pigskin Dreams – The People Places and Events that Forged the Character of the NFL's Greatest Players.

"Wayne Kurtz' has written the ultimate book and complete system for achieving your goals – Everyone needs this book !
As an NBC TV Olympics expert guest, Your Performing Edge best-selling author, Stanford trained sports psychologist, coach to Olympic Gold Medalists, and SF Marathon winner, I look to Wayne Kurtz as THE top expert and consultant on goals and productivity. I have worked with Wayne professionally, he is an exceptional goal achiever, and he lives what he teaches every day.
Wayne has over 25 years of competitive athletic and business experience with excellent coaching skills and he is amazing to work with. Because he is very personable, understanding, and a great teacher, he can help you to make the transformation you need to reach your full potential with his goal setting system. His wisdom and contributions have made a phenomenal difference in the lives of thousands. If you have a chance to work with Wayne, do it! I highly recommend Wayne Kurtz' book as your blueprint to reach your goals quickly and keep reaching your targets every year."

Dr. JoAnn Dahlkoetter

Olympic Performance Coach
Below you will find the worksheets that accompany the ebook

Never Say "I Wish I Had"
… 30 Days To Becoming Your Own Chief Goals Officer.
The comprehensive CD/MP3 Set will highlight in detail all the key concepts of the 30 Days to Becoming Your Own Chief Goals Officer program.
It's your traveling library of the Chief Goals Officer! Additional Goal Setting ideas including detailed information, discussions, life examples of others and specific action outcomes will be covered in the CD/MP3 set. Other topics covered:
Accountability Of Goals – Specifically to meet your objectives
Personal Brand – How to easily develop your personal brand most effectively with 5 Easy To Implement Tools
Top 10 Action Items to Focus On Every Day that will result in the best opportunity to achieve your goals
Time Management and The Art of Leveraging Efficiently For Goal Achievement
Career and Life Goals Toolkit/Roadmap – Unusual and Effective
Techniques to Get The Dream Job for Yourself, Family Member or Friend during a competitive job environment.
Life Examples of Goal Setting that should be considered and how to get it done quickly.
A Day In The Life Of A Chief Goals Officer – Detailed examples
that you can use and blend into your specific personal goal setting and achievement process.
Various Idea's to using the Never Say "I Wish I Had" index cards
Journaling in detail, why does it work so effectively for your goals.
Complete description and review of all the various Goals Worksheets
Chief Goals Officer – Goal Setting to Make an Exceptional Life
This presentation is geared specifically for individuals who want to become high achievers and athletes. The tools and specific action plans will help them design a plan guaranteed to help them cross the finish line, achieve another level in their career and life. Wayne Kurtz will review his personal insight and advice to help create a custom mental training program that is guaranteed to deliver specific measurable results in all aspects of work and as an athlete. In this presentation, Wayne highlights:
How to create mental training strategies to meet individual needs
Advice, tips and a plan to stay on target to achieve the goal
The value and importance of getting your mind in a positive place
How to overcome and avoid mental stress within the workplace
Top 20 Time Wasters and a Plan to Eliminate Them
Focus on results and accountability
Reinforcement of accountability to Never Say "I Wish I Had"
Guaranteed to have "No Fluff" but creative strategy and Plan to implement and monitor results
It only takes 10-15 minutes a day
How to create a goals mind-map
30 Days – Step by step